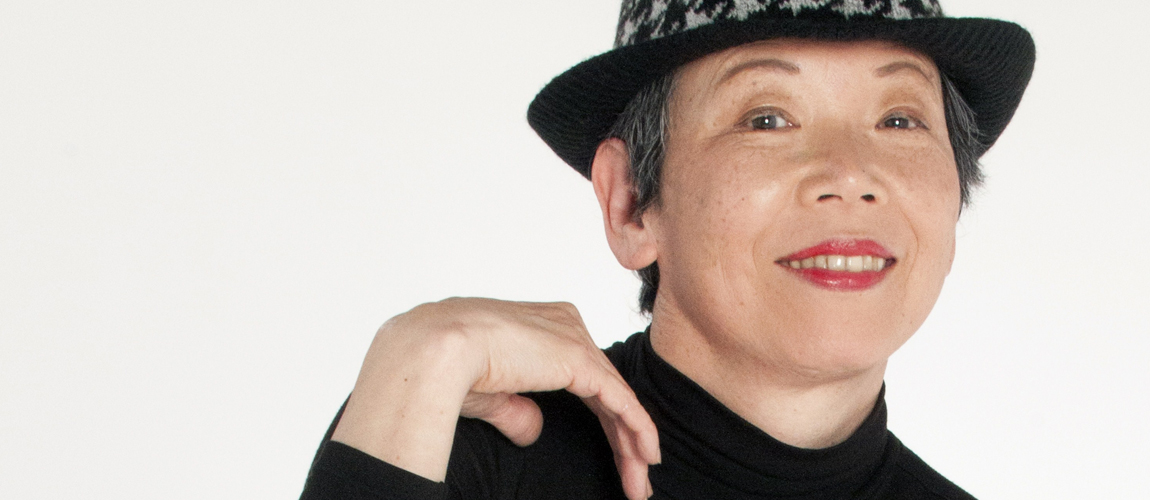 About Yayoi Hirano
Born and raised in Japan, Yayoi has lived in Vancouver since 2002. She is a graduate of Toho Gakuen College of drama (1972), and in 1975 co-founded Mime Theatre Pierrot-kan to popularize pantomime in Japan through modern works. Over the past 30 years she has continued her study of Japanese dance and movement such as Kagura, Noh, Kyogen, Kabuki-dance as well as western dance both classic ballet and modern dance. Her mime study has been in both Decroux and Lecoq system. Very early in her career she has had a passion for teaching mime, dance and movement. In 1989, she became the first mime artist to receive the Japanese Ministry of Education Fellowship, and spent a year collaborating with mime and dance artists in Germany and Canada. In 1990, she founded YAYOI THEATRE MOVEMENT Society. Her international performances include festival appearances in Germany, Slovakia and 7 other European countries numerous Asian tours as well as five North American tours.
Her collaboration work with international artists include work with Canadian photographer Courtny Milne(1995), Japanese Jazz musician Terumasa Hino(1996), Halina Witek (Holland 1997 ,1998). For her collaboration with Bulgarian actor Nikolai Sotirov in both Japan and Bulgaria, she was given the Bulgarian Experimental and Avant-garde Performance Art Award in 2001.
Yayoi's career as a mask carver began 1996 under the mentorship of Noh-mask Master Fujio Fujimori. Since then she has created 15 unique Noh-style masks which have all been used in various performances.
In 2005 Yayoi created a new solo work "Four Seasons" which debuted in October at the Scotia Bank Dance Centre. In 2007 she collaborated with musician/composer Wendy Bross Stuart to create "Mothers" a dance/musical celebration of motherhood. 2008, she performed in Pangaea.Arts "Life of Paper", and presented an original "Stories" in collaboration with pianist Sara Davis Buechner at the Powell Street Festival.
In the fall of 2008, she co-created and produced "Shinju" with fellow Japanese Canadian actor Manami Hara. Interpreting a traditional Kabuki theatre story Shinju used mime and dance, both traditional Japanese and modern western with Canadian actors on stage. In May 2011, she produced and performed a dance work "Identity-Ancestral Memory" in collaboration with Jay Hirabayashi (Kokoro Dance) at the Revue Stage on Granville Island in Vancouver.
A life long dream to present a Greek tragedy in Noh-theatre style let to Yayoi's collaboration with director Peter Hall of Mortal Coil to produce Medea/Rokujo in Nov.2013 at the Orpheum Theatre Annex.
In September 2014, Yayoi received a Canada Council Grant for Dance Professionals to research Japanese dance forms and history pre Noh theatre and Kabuki from 800 to 1800. She spent October & November in Japan doing her research.
Since 2011 Yayoi and her company have participated in the Canada Day Parade presenting a traditional Japanese festival dance "Vancouver Ondo" with over 200 dancers.
Original Dance Projects (Selected)
Woman
YAYOI Dojoji
Snow Flake
Emotion 1
Earth Celebration
Magical Imagination
Scene Z
Sacred Earth
Girl selling match
Divina Commedia
Uzume
Bolero
Dancing Mime
Kurozuka-Lunar Illusion
Opera-Gala
Sumida-river
Snow Daughter
Wind's Traveler
Four Seasons
Mothers
Stories
Shinju- Double Suicide
Identity Ancestral Memory 1
Identity Ancestral Memory
Medea-Rokujo
Poemime
Hiku-mime
Speaking Theatre projects (Selected)
Happy Days (S. Beckett)
Four Season (A. Wesker)
Sonata D Minor ( S. Tanaka)
Blue Necktie ( K. Yumeno)
Dry Lips Oughta Move To Kapuskasing (T. Highway)
Life of Paper (Pangaea Arts)
International performing tours
New York Off Festival
Canadian Fringe Festival
Austria 1000 years Festival
Hungary 1100 years Festival
Bulgaria Japan week
Blatistave International Mime Festival
Chunchion Korea Mime Festival
Cities performed
Berlin(Germany) 1996
Blatislave(Slovakia)1996
Budapest(Hungary)1996
Chunchion(Korea)1998
Eindhoven (Holland) 1996/1997/1998
Edmonton'86/'90/'92/'93/'94/'01/'02/'05
Grand Prairie(Canada) 2006
Koln (Germany) 1990/1996
Los Angeles(USA) 1986
Milan(Italy) 1987
Minneapolis(USA)1994
Montreal( Canada) 1990/1994
Nanaimo(Canada)2007/2015
New York (U.S.A) 1994/1998
North Battleford(Canada) 1986
Ottawa(Canada) 1992
Qualicum Beach (Canada) '07/'09/'10
Rudel(Canada)1986
Saskatoon(Canada) 1986/1992/1993/1994
Singapor 1998
Sofia (Bulgaria) 1996/1998/2001
Toronto(Canada) 1986, 1992
Vancouver (Canada) '86/'92/2001~
Victoria(Canada) 1992/1993/2001
Whitehorse(Canada) 2005
Wien(Austria) 1996
Winnipeg(Canada) 1992/1993
Wien(Austria) 1996
Wroclaw(Poland)1996
Major Recent Choreographs and coaches
"Wondrous Tales of Old Japan"( Carousel Theatre)
"Salmon Row" for (Mortal Coil )
"Madama Butterfly" (Vancouver Opera)
"Alms" (Airplank Theatre)
Award
Experimental and a Vanguard Art Award from Annual Prize of the Union of Bulgarian Actors for "The Daughter of the Snow"
Grants (in Canada)
Canada Council for "Research Japanese performing arts from 800 to 1800 in Japan" in Oct. to Dec (2014)
Canada Council, BC Arts Council, City of
Vancouver, Vancouver Foundation, The Hamber
foundation, NAJC for "Medea- Rokujo(2012)
City of Vancouver 125years anniversary for "Identity-Ancestral Memory"(2011)
Canada Council, BC Arts Council, NAJC for "Identity-Ancestral Memory"(2009)
BC Arts Council, City of Vancouver, Granville Island Cultural Society, NAJC for "Shinju"(2007)
City of Vancouver, Granville Island Cultural Society for "Mothers"(2006)
Grants( in Japan)
Japan Foundation for the world tour of solo show "Bolero" (1998)
Japan Foundation for the European tour of solo show "Uzume"(1996)
Grant from Japan Foundation for the Canadian tour of solo show "Scene Z"(1994)
Grant from Ministry of Education for the show – "Dojoji" (1993)
1989 – 1990 A Member of Japanese Governmental Grant for Artists('89~'90)