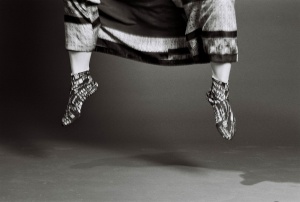 Shinju: Monzaemon Chikamatsu's classic love story adapted by Yayoi Hirano and Manami Hara.
Yayoi Theatre Movement production, Performance Works, Granville Island, Oct. 30-Nov. 2, Thursday to Saturday at 8 p.m., also Saturday and Sunday at 2 p.m.
Tickets from $20. Info: 604-739-7760
Call it a Japanese Romeo and Juliet, but with a happier ending – sort of.
Shinju is the story of Ohatsu and Toku, a young courtesan and a merchant class fellow who fall for one another, despite the impossible gulf of class that divides them.
The story is based on the 18th Century tale by Monzaemon Chikamatsu, adapted by Yayoi Hirano as a dance and movement piece that draws on traditional Kabuki.
After a series of dramatic obstacles bar them from marrying, Toku and Ohatsu decide to commit suicide, planning to be reborn together in another life.
"The main difference is that when Romeo and Juliet die, it's a tragedy," explains Manami Hara, producer and actress in the production. "Their love couldn't be understood, but in Shinju, they do kill themselves, although hoping to be together in the next life… their love will be reborn and pure."
Expect elaborate costumes, intricate, expressive mime and movement, with music by Wendy Bross Stuart on koto and shamisen (a 13 string instrument and a three string guitar) and Minoru Kofu Yamamoto on the shakuhachi (a bamboo flute). Sara Davis Buechner plays Piano.