[columns] [span4]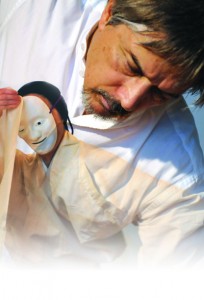 [/span4][span8]
Part of the Vancouver City 125th Anniversary
Identity – Ancestral Memory
YAYOI THEATRE MOVEMENT SOCIETY (YTMS) is making preparations for the official production of Identity – Ancestral Memory which is going to be performed at Stanley Industrial Alliance Revue Stage on Granville Island in May, 2011.
This production is a collaboration with Jay Hirabayashi, a director and a dancer with KOKORO DANCE. Jay himself is a Nikkei Sansei; third generation Japanese Canadian. It's going to be a sensational performance work.
Identity showcases various techniques; such as mime, dance, Noh play, Kyogen play, traditional Japanese dances, motion images, live koto play (a traditional Japanese stringed musical instrument), and live shakuhachi play (Japanese bamboo flute) . It is a fusion of Japanese traditional performances and contemporary dances. It is inspired by the poems and the words of Japanese Canadian artists. The Nikkei Nisei painter, photographer,and poet, Roy Kiyooka was the biggest source of inspiration. The identity of Japanese Canadians is juxtaposed with videos of interviews of people in Japan talking about identity.
YTMS presented the "working on progress" production of Identity at Centre A in Vancouver for three days in April 2010. Approximately 350 spectators came to the shows. All were impressed by the performance. In this production YTMS included some special events, such as a symposium and a related film work. The reviews in various media spoke highly of the production. The reviews appeared not only in Greater Vancouver area, but also in Ontario. It was also featured in the Toronto Nikkei Voice. The production was praised for its theme and high quality.
Yayoi, artistic director of YTMS, was moved to produce Identity when she discovered a dramatic connection between her mother's experiences and those of Japanese Canadians. Her mother repatriated to Japan from China after World WarⅡ. Like Japanese Canadians, Yayoi's mother suffered great hardship during and after the war. By probing the duality of Japanese Canadians' identity, YTMS explores what identity is.
【Title】
Identity – Ancestral Memory
 
【Schedule】
May 12(Thu) –  May 14 (Sat)  8:00pm~
【Venue】
Revue Stage
1601 Johnston St. Vancouver ( on Granville Island)
【Tickets】
$25(general) $22 (seniors) $20(students)
Plus service charges
To get tickets go to Vancouvertix.com
【Concept / Director】
Yayoi Hirano
【Choreographer】
Jay Hirabayashi
【Stage Performers】
YAYOI, Jay Hirabayashi, Carolyn Chan, Tomoko Hanawa
【Video Participants】
Harry Aoki, Roy Miki, Linda Ohama,
Judy Nakagawa, Takeo Yamashiro, John Endo Greenaway
【Musicians】
Koto (Japanese Harp): Kozue Matsumoto
Shakuhachi (Japanese Bamboo Flute): Minoru Yamamoto
【Creative Team】
Production Manager : David Warburton
Lighting Designer: Gerald King
Visual Designer: Shebnem Ospeta
Photographer: Yukiko Onley
Graphic Designer: Ryoko Ninagawa
Videographers: Takeshi Yonekura (Canada)
Hiroshi Kawauchi (Kouchi, Japan)
Yusuke Yuguchi (Tokyo, Japan)
Music for "Finger Print" : Joseph Hirabayashi
【Show Length】
75mins.
【Produced by】
YAYOI THEATRE MOVEMENT SOCIETY
【Sponsors】
BC Arts Council, City of Vancouver, escapes.ca
【Media Sponsors】
Vancouver Shinpo, Fraser Monthly
【Supporters】
Grace Eiko Thomson, Centre A
Angela Hollinger, Doug Owen,
Naoko Shimada, Goushi Yonekura
Yukari Sato, Yukiko Anthony, Makiko Yoshii
Tomoko Shimada, Naoto Horita,
Ruriko Taylor, Cindy Mochizuki
Top Scene Inc.(Tokyo Japan),
Mamoru Hiraoka , Moritaka Matsumoto
Kana Kiyooka , Matsuki Masutani
Kayo Kitakomi ,Mikiya Kadota, Masako Matsuda
【Contact Information】
YAYOI THEATRE MOVEMENT SOCIETY
(Tel. 1-604-739-7760)
[/span8][/columns]