[columns] [span4]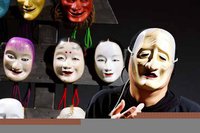 [/span4][span8]
Jan 8 to March 5, 2011
Learn how to make a Noh theatre style mask using paper mache! Seats are limited. Resister NOW!!
____________________
Information
Workshops will take place near Granville Island
on alternate Saturdays starting Jan 8 for 5
sessions with the final session March 5.
Time 10am – 3pm.
Fee $250.( including cost of materials)
Please contact Yayoi to resister
604-739-7760, info@yayoitheatremovement.ca
For further information, go to
www.yayoitheatremovement.ca
____________________
Instructor Yayoi Hirano
Yayoi Hirano has been carving traditional Japanese Noh theatre masks since 1995. Her extensive collection of masks are used in her numerous stage performances. Her technique and knowledge were instrumental in creating one of the masks for the 2009 Stanley Park Ghost Train Show.
[/span8][/columns]