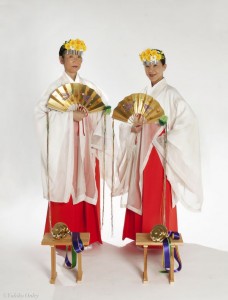 In 2014, I received a Canada Council grant to research in Japan traditional dance from 800 to 1800. I travelled to numerous locations where the old style of dance, mostly Kagura and Bugaku are still performed in the same style as historical times.
One of the dances I would like to present is named "Urayasu-no- mai".
It was choreographed with traditional music in 1940 and has since been performed at many celebration occasions all over Japan. The words accompanying the music in poetic style are a prayer for peace in Japan.
This piece can be performed by one or two or even four dancers; there will be two of us presenting this dance. We will wear authentic Shrine maiden costumes using both fans and Kagura-bells. This performance with recorded music is about 12min.
For more information about our performance, please contact YAYOI THEATRE MOVEMENT Society.