[columns] [span4]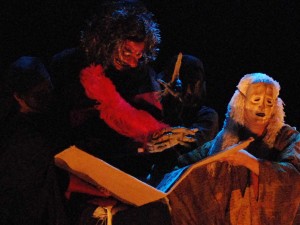 [/span4][span8]
With the wide spread use of computers and video games, interpersonal relationships have changed and become perhaps weaker and less significant in today's society.
The most fundamental of all relationships is the connection between a mother and a child.
This project, "Mothers", with four contributing artists will consist of four different stories based on Japanese, Jewish, Canadian First Nations and Chinese legends. The aim is to look at how mankind can live through exploration of these stories noting their similarities and differences.
Yayoi Hirano, the project's initiator, has previously created/produced, directed and performed mime & dance performances drawn from Japanese legends using traditional Noh and Kabuki style.
In 2005, she performed "Celebration of Life: Four Seasons", which told four different-aged women's stories from historical Noh scripts. (Yayoi, a breast cancer survivor, initiated this performance as a fundraiser for the BC Cancer Foundation and the VGH&UBC Hospital Foundation raising over $8,000.) Yayoi used visual images in this performance as a new trial, and now in the next project she would like to explore the potential/effective use of images on screen further in depth.
In addition, through performing stories of four different ethnic groups in one play, a message Yayoi would like to send to the world from Vancouver, an ethnically diverse city, is the importance of understanding, respecting and learning from other cultures.
Audience review
"your performance last night was marvellous, as was Wendy's music and the performances of the other young dancers you collaborated with. it was all quite spell-binding — and so creative in many different ways. the 3 pieces, each very different from the others, worked together beautifully. your performance as the mother from Sumidagawa was very poignant — such beautiful movement & voice. Bridget & i both hope that lots of people will come out to see it.
with many congratulations from both of us" ~Daphne ~
"YES indeed. MQ and I and Fred and Pauline went last night — really loved the final piece, amazing and wonderful and moving. The expressiveness of the body makes for expressiveness in the apparantly inert mask — that is as much the mask-maker's skill as the mimeist's (mimic's?). The whole evening well- well- well-worth seeing / doing. Thanks for telling us about it." ~Peter Quartermain ~
"Congratulations!
I very much enjoyed your performance on Thursday. It was funny, cute, and moving. Junko-chan couldn't stop crying after 'Sumida gawa'."
"I had the chance to see your play mothers few weeks ago. I was astonished by the beauty and the simplicity of this work. The work was outstanding in terms of the little props were used and how the idea was conveyed with little tools. The music was outstanding as well."
"You were simply magnificent last evening. I enjoyed all of the dances
immensely, and particularly the last one, which affected me deeply. Totemo
kondou shimashita."
"Thank you for a very impressive evening of theatre. It was magnificent & imaginative, well directed & performed with precision & inspiration.
You did real well & the company is great. I very much liked the puppetry & mask work. I sat in the front row & was quite close to the kodo & piano & the music was beautiful. Thank you so much & thanks too to your company.
Again many thanks." ~Txi ~
[/span8][/columns]