[columns] [span4]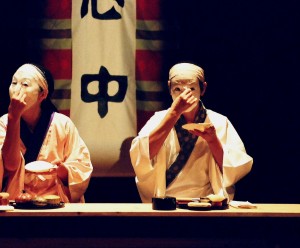 [/span4][span8]
Shinju Project Description
SHINJU is a fully realized 75 minute dance/theatre production. It has very traditional Kabuki elements as well as some very unique elements. The actors/dancers are dressed in beautiful and colorful Japanese kimono costumes.  Their faces are completely painted white with red and blue accented eyes and lips.  Kuroko (invisible performer dressed in black) move about the stage seamlessly helping actors get changed on stage, striking and moving props. Actors/dancers perform Kabuki style dance routines. However, SHINJU also has some very unique elements. Live music is played through out the show, which is consistent with traditional Kabuki, but the sound is truly a fusion of  western and eastern musical instruments and celebrate this unique musical mixture. Sara Davis Buechner plays selected music from Bach to accompany the two main characters duets. Wendy Bross Stuart plays Koto, a 13 string Japanese instrument and the Shamisen, a 3 string Japanese guitar. Minoru Kofu Yamamoto plays Shakuhachi, a bamboo flute.  They both improvise as the dancers moved about the stage miming.
Review from "the Bulletin"
At : Performance Works Vancouver,  Oct 30 to Nov.2 2008
I found myself drawn in from the beginning, when Yayoi and the exquisite Manami Hara applied their perfect makeup without a mirror, (impressive in itself!)  transforming and becoming their characters. Much of the movement was simple- such as the first time the lovers cross paths, circling the stage in smaller and smaller circles until they pass, pause, lean back slightly, then continue their orbits – yet able to communicate such complex feelings.  Though the performance style was based on Kabuki, there were other influences at play- including a brief and delightful leap into classical ballet- and I was struck by the similarities with, say, Commedia d'el Arte, and the universality of some of the archetypes.
We laughed. We cried. We hoped for the lovers' success.
All of the performers were strong. Thomas Conlin Jones depiction of the aunt was a particular stand out, and Peter Hall seems to have found a true home here in this style.  But it was Manami Hara and Yayoi who carried the story, and especially the deep pathos and amazing physicality of Yayoi that brought us all to tears in the end.
( by Paula Jardine)
Classic tale, modern twist
SHINJU: Tragic love story adapted from 18th century kabuki
BY STUART DERDEYN/ PROVINCE
Set in 1703 in Osaka, Japan, Shinju is a tale of tragic love. Set amidst class conflicts and life's cruel twists, the love between Toku and Ohatsu includes a "til death do us bring together" climax
that is certain to remind many of one Bard's Romeo and Juliet.
In fact, the popular 18th-century kabuki theatre piece was based on a true story written by Monzaemon Chikamatsu.
Now adapted to a modern context by Yayoi Theatre Movement as a dance and movement piece by Yayoi Hirano and Manami Hara, the story morphs into a different kind of theatrical work entirely from its traditional classic kabuki. Featuring Yayoi, Hara, Peter Hall and Tomoko Hanawa, the show also boasts musical ccompaniment ranging from J.S. Bach to unique new traditional ompositions played by ace pianist Sara davis Buechner, Wendy Bross tuart and Minoru Yamamoto.
It's yet another development for a play that actually started its life as a bunraku, or puppet, piece.
"The original writer adapted it into a theatrical work from a puppet show""says Manami Hara. "It was adapted to multiple film reatments as well."
"Owing to the similarity to Romeo and Juliet, it is a very universal story that can easily be understood as a kabuki and movement piece to non-Japanese audiences," says Yayoi Hirano. "That we are women performing it is not as much of a surprise, because this has been done many times before, even in the original form."
Since relocating to Vancouver, Yayoi Theatre Movement has performed a number of challenging and awardwinning avant-garde works based upon traditional Japanese classics. She still loves to tell the original stories, but likes to incorporate a good deal of new conceptual matter into her pieces.
"We started working on this about two years ago," says Hirano. "This is not a very long time when you think about the original score and having to order the custom wigs for the various characters and so on."
While Hirano is a world-acclaimed,Japanese-schooled artist, Hara is a graduate of Langara's Studio 58. Was it an eye-opener for the two actors to work together coming at it from two different training disciplines?
"From my point of view, I have no knowledge of how the Japanese artist acquires their skills," says Hara. "So this means that Yayoi is my guru and I am a student in this trying to figure out the Japanese art. Very rewarding."
"Japanese movement is a specific skill of continuous motion hard for the Western artist to understand at times,"
says Hirano. "You have to know in your body about when to pause."
"You have to understand what those pauses mean, too," says Hara.
So try to imagine Romeo and Juliet told with white-faced kabuki actors. They are moving along to live music from the WEAM (Western European art music) canon that often relies on you grasping the storyline through study of the motion and the aid of occasional chorus. That's the concept behind Shinju. Sort of.
"There is also the element of some improvisation during the show," says Hirano. "If the actors do something slightly different, the musicians need to follow along with us."
Expect to be taken on a journey spanning ages and arts.
[/span8][/columns]