Vancouver Ondo in Canada Day Parade 2016
日本語ページはこちら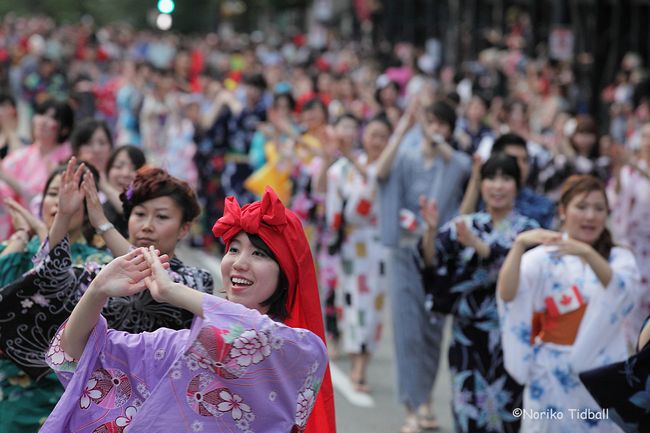 In downtown Vancouver on July 1st.
Tens of thousands of people will be heading to the heart of Vancouver to cerebrate Canada's birthday every year. The Canada Day Parade will go through those people packed along the streets and you will be the one in the parade with Vancouver Ondo this year!!

Costumes
All parade dancers will need to be dressed in Japanese clothing like Yukata or Happi (Jacket type kimono). If you don't have your own costumes, rental costumes of variety kind of Yukata and Happi are available for you. On Canada Day, we will have a fitting room in Downtown opening prior to the parade starting time and help all the dancers who need help with fitting yukata.
Schedule
Canada Day July 1st

4:00pm Meet at the Fitting Room (Those needing Yukata fittings)
* Address: 1199 W Pender St  at Canadajournal -A Agent on 4th floor, above 7-Eleven
* Meet our staff at the building entrance between 3:30-5:30
* Please check the email of 29th for more details
6:00pm Meet at the Parade meeting spot near by parade starting spot . (All participants)
* Those who doesn't need Yukata Fitting service can come directly here by 6pm.
* Pick up your rental Happi (Jacket Kimono) here.
* We'll have the last minutes dance lessons.
7:00pm The parade begins.
* We'll collect your valuables and keep them safely in the parade car. Small things only!! (return them at the dismissal)
* Large belongings like a backpack should be left at the Fitting Room by 5:30.
8:30pm Dismissal(Pender x Howe)
* Return your rental Happi here.
* Those who need to return the rental (Yukata, etc) , change your clothes and pick up your belongings at the Fitting Room, go back there immidiately. The Fitting Room will be closed at 9:30pm.
* The parade walk – about 30 minutes long
* Parade finish and dispersal at Georgia at Hastings
* Those who borrowed a Yukata, are asked to head promptly back to the Fitting Room to change and return the Yukata they wore.

Sign Up
Sign up for 2016 is closed now. Inquiry