[columns] [span4]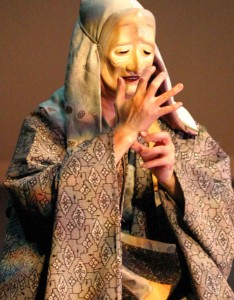 [/span4][span8]
Human life overlaps the four seasons.
Wearing four self-carved Noh-theatre style wooden masks; Teenage Girl, Young Woman, Middle Age Woman and Old Woman, Yayoi lives the four different lives of these women.
Using slides and hanging some plastic mannequins she performs solo.
The young girl is the girl from "Hagoromo"; the young woman is from "Hanjo"; the middle age woman from "Kinuta"; the old woman from "Sotoba-komachi". Between each story, Yayoi dances and plays with her inner image with abstract and amusing movement.
The show is 65 min.
Yayoi, born and raised in Japan moved to Canada at age 50. Although trained as a mime performer, she has extensive experience in traditional Noh-theatre and Kabuki-dance. Since moving to Canada, her creative focus has been to make Japanese culture appeal to a universal audience.
Concepts and the scripts of " Four Seasons"
Drawing on stories from traditional Noh-theatre will tell the story of four stages of a woman's life with mime, dance and Noh style chant.
Hagoromo
Spring. A celestial nymph is dancing in the celestial world. She takes a look at the lower world. She flew down to the lower world out of her curiosity, it was Miho no Matsubara, at the roots of Mt. Fuji. It is the world that the celestial nymph has never known before. She is very curious. She walks in the field, and picks some flowers. Then she comes to the shore of the sea. She touches the water. That was something she has never felt before. And she just realizes that she is missing her Hagoromo cloth. She rushes back to the shore. A fisherman is holding the cloth. The celestial nymph asks him to give it back to her, but he wouldn't listen. She cannot return to the celestial world without the cloth. She asks to give it back once again. The fisherman reluctantly agrees to give it back and asks her to do the dance of the celestial nymph in return. She dances and goes back to the celestial world.
Hanjo
Summer. Hanako is looking for Yoshida; she is carrying the fan that she swore her love with Yoshida in spring. She travels from Mino to Kyoto, walking the distance of about 200km and boating from a shrine to another. When she finally reaches Kyoto in summer, she was too exhausted to take another step. "Where is my dear, no signs of you anywhere, all I have is this fan that we swore our love by, to my great sorrow," she sings and dances. Yoshida just comes by and talks to Hanako. They show their fans to each other, find themselves finally together, and celebrate their reunion.
Kinuta
Fall. A woman in Kyushu waits for her husband, who went to Kyoto for a lawsuit three years ago, to come home. She finally receives a letter from her husband saying, "It seems I will be home in the year end." The letter eases her grief, but she receives another letter near the end of fall, when the night wind is cold, and when a hart calls for his mate somewhere. He writes, "I'm afraid I cannot come home at the end of this year." The wife is now very disappointed, and she doubts her husband doesn't love her any more. Her hatred becomes madness, and she commits a suicide in the end. And her husband just returns. He did not betray her. He just couldn't come home sooner since the lawsuit took longer. The spirit of the wife goes back to netherworld without hatred knowing what really happened to her husband.
Sotoba Komachi
"The world we live in is turned by the thread of destiny, and there is only a thin line between life and death. Is this real or illus ional?"
Ono no Komachi was a woman of great beauty. Komachi inevitably aged and became 100 years old. Now nobody looks back at her; in fact, she is said to be dirty and creepy. She occasionally does panhandling, but no one gives her anything. Only kids throw stones at her. She manages to find a place to sit down and eats some food out of the scrip. All of a sudden, there is a voice, a man's voice. That was the ghost of Fukakusa shosho who loved Komachi in the past. He wanted to hear Komachi's reply so much that he came by for ninety-nine nights and died of a heart attack on the hundredth night. His resentment ended up possessing Komachi. She realizes that she was sitting down around the grave of Fukakusa; she purifies it with water and salt and says a prayer for him.
Japanese artist brings Four Seasons to life on stage
by Diana Rinne/ Encore!
Rooted in the rich traditions of Japanese Noh and Kabuki theatre, performer Yayoi Hirano brings to Grande Prairie a unique contemporary performance that reaches far beyond the borders of her native land with Celebration of Life –Four Seasons, Jan 13 and 14.
Second Street Theatre will provide the stage for Hirano's modern interpretation of four stories taken from Japanese traditional Noh theatre, which uses masks and chanting to relate stories to the audience.
"Spring is young girl, summer is woman, autumn is middle-aged woman and winter is old woman" she explained in a phone interview from her home in Vancouver recently"
"Because this is a Japanese story and not many people know it, I have a narration by a Canadian actor who is a man," she added nothing the stories deal with the relationships between men and women.
In addition, Hirano's performance includes a DVD component that offers English subtitles during the Noh chanting, as well as brief intermission segues between each story.
"I don't want it to be just a black out, so I have a DVD showing the scenery for the next story," she said. "I think is easy to follow."
Following the traditions of Noh theatre, Hirano will perform Celebration of Life –Four Seasons wearing masks she carved herself.
Mask carving is and entire art form in itself and something Hirano enjoys and finds very healing in many ways.
"It is a traditional style of mask carving for Noh theatre. Some masks take about 100 hours to carve and paint" she said, nothing she has created 13 masks and is working on more.
"It's really enjoyable to do it. Sometimes it's not easy but wood smells good" she chuckled. While Hirano felt the audience in Japan and Canada are not that different, she has noticed Canadians not familiar with the traditional Noh theatre are often amazed at how expressive it can be.
"Many Canadians didn't expect that masks can change," she said. Though Hirano does not physically change the masks, her physically expressive performance is what brings that perception to her audience.
"When they are watching me on the stage, the masks can change whenever my emotion changes. The mask itself does not change, but whenever I express something they feel what that person feels and they feel like the mask has changed," she explained.
Hirano has been performing mime and dance for many years, graduating from the Toho Gakuen College of performing arts and co-founding the Mime Theatre Pierrot-kan in 1975.
"I had an interest in traditional stories and have done Noh theatre singing and dancing and Kabuki theatre singing and dancing, and actually even older theatre style," she said.
She began a very prolific solo career for 10 years later in 1985. In 1989, she became the first mime artist ever to receive Japan's Ministry of Education Fellowship, and spent a year collaborating with artists in Germany and Canada.
Since founding Yayoi theatre Movement in 1990, Hirano has travelled the world, performing in 13 countries, as well as collaborating with other international artists.
Hirano became a permanent resident of Vancouver in the fall of 2002. It was that same year she discovered she had breast cancer. Over the past three years, Hirano battled the disease and is a breast cancer survivor, she feels, because of the Canadian health care system.
"I feel my life was saved by the system that is here," she said. "I just appreciate it and I want to tell that I am still alive even though I had breast cancer. I want to encourage people who have or may have breast cancer."
As part of her commitment to raising some awareness and appreciation of the treatment she herself received, Hirano's Jan 13 performance will be a gala fundraiser for Canadian Cancer Society.
Yayoi Hirano performs Celebration of Life –Four Seasons at Second Street Theatre, Jan 13 and 14 at 8 p.m. For ticket or more information, contact the GPLT box office at 538-1616.
[/span8][/columns]