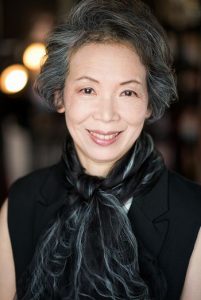 Born and raised in Japan, Yayoi has lived in Vancouver since 2002. She is a graduate of Toho Gakuen College of drama (1972), and in 1975 co-founded Mime Theatre Pierrot-kan to popularize pantomime in Japan through modern works. Over the past 30 years she has continued her study of Japanese dance and movement such as Kagura, Noh, Kyogen, Kabuki-dance as well as western dance both classic ballet and modern dance. Her mime study has been in both Decroux and Lecoq system. Very early in her career she has had a passion for teaching mime, dance and movement. In 1989, she became the first mime artist to receive the Japanese Ministry of Education Fellowship, and spent a year collaborating with mime and dance artists in Germany and Canada. In 1990, she founded YAYOI THEATRE MOVEMENT Society. Her international performances include festival appearances in Germany, Slovakia and 7 other European countries numerous Asian tours as well as five North American tours.
Her collaboration work with international artists include work with Canadian photographer Courtny Milne(1995), Japanese Jazz musician Terumasa Hino(1996), Halina Witek (Holland 1997 ,1998). For her collaboration with Bulgarian actor Nikolai Sotirov in both Japan and Bulgaria, she was given the Bulgarian Experimental and Avant-garde Performance Art Award in 2001.
Yayoi's career as a mask carver began 1996 under the mentorship of Noh-mask Master Fujio Fujimori. Since then she has created 15 unique Noh-style masks which have all been used in various performances.
In 2005 Yayoi created a new solo work "Four Seasons" which debuted in October at the Scotia Bank Dance Centre. In 2007 she collaborated with musician/composer Wendy Bross Stuart to create "Mothers" a dance/musical celebration of motherhood. 2008, she performed in Pangaea.Arts "Life of Paper", and presented an original "Stories" in collaboration with pianist Sara Davis Buechner at the Powell Street Festival.
In the fall of 2008, she co-created and produced "Shinju" with fellow Japanese Canadian actor Manami Hara. Interpreting a traditional Kabuki theatre story Shinju used mime and dance, both traditional Japanese and modern western with Canadian actors on stage. In May 2011, she produced and performed a dance work "Identity-Ancestral Memory" in collaboration with Jay Hirabayashi (Kokoro Dance) at the Revue Stage on Granville Island in Vancouver.
A life long dream to present a Greek tragedy in Noh-theatre style let to Yayoi's collaboration with director Peter Hall of Mortal Coil to produce Medea/Rokujo in Nov.2013 at the Orpheum Theatre Annex.
In September 2014, Yayoi received a Canada Council Grant for Dance Professionals to research Japanese dance forms and history pre Noh theatre and Kabuki from 800 to 1800. She spent October & November in Japan doing her research.
In September 2014, Yayoi received a Canada Council Grant for Dance Professionals to research Japanese dance forms and history pre Noh theatre and Kabuki from 800 to 1800. She spent October & November in Japan doing her research.
March 2017, produced and performed OKUNI-Mother of Kabuki at Studio 1398 Collaborate with the Gershwin's music by Sara Davis Buechner.
Then in June 1st Yayoi was a guest performer at pianist Sara Davis Buechner's concert at Weill Recital Hall (Carnegie Centre New York). Her program was 10 short movement pieces for Jacques Ibert's Stories using her Noh style masks. A New York Times review was very positive. The same program was repeated in April 2018 at Freer Gallery of Art (Smithsonian Museum) Washington D.C, in May at Wentworth Villa Victoria BC and in July at the "Orford Music Festival" near Montreal.
Yayoi began work on "Comedia" with Marina Hasselberg in 2018. In November 2018 and in May 2019 work in progress performace were held at Visual Space in Vancouver. The final "Comedia 2020" will be at The Dance Centre on Feb. 21 / 22 2020.
She has also worked as a movement coach for Vancouver Opera's "Madama Butterfly", Mortal Coil's and Carousel Theatre.
Since 2011 Yayoi and her company have participated in the Canada Day Parade presenting a traditional Japanese festival dance "Vancouver Ondo" with over 200 dancers.
Awards
| | |
| --- | --- |
| 2002 | Experimental and a Vanguard Art Award from Annual Prize of the Union of Bulgarian Actors for "The Daughter of the Snow" |
Review
NY Times June 3 edition
Review: Japan Meets France, Through a Pianist's Sensitivity
By CORINNA da FONSECA-WOLLHEIMJUNE 2, 2017

As forms of wordless storytelling, mime and music are sister arts that rarely share a stage. Yet they came together on Thursday evening at Weill Recital Hall. There, the pianist Sara Davis Buechner was joined by the mime dancer Yayoi Hirano in a performance of Jacques Ibert's "Histoires" in which the addition of spare, precise movements and Noh-style masks deepened the music's mystery and whimsy.
Ibert's 10 "Histoires" ("Stories") for solo piano were written between 1912 and 1922. They are like pages from an artist's sketchbook, with movement titles like "The Old Beggar," "The Crystal Cage" and "Little White Donkey." The music reflects both the influence of Impressionism and Ibert's background as a silent-movie pianist.
Using a different sculpted mask for each of the miniatures, Ms. Hirano accompanied Ms. Buechner with gracefully stylized pantomimes. While her fluid gestures brought to life the tableaus evoked by Ibert, she also seemed to trap them in a point midway between playful revelation and cool enigma, seeming even to comment on the limits of music's representational powers.
Major Original Work
Yayoi Dojoji
Divine Commedia
Bolero
Earth celebration
UZUME
KUROZUKA
Mask
Shinju
Scene Z
Mothers
Medea-Rokujo
OKUNI-Mother of Kabuki
Recent Works
>> View CV
| | | |
| --- | --- | --- |
| Aug | 2019 | Act in the Feature film "Godfrey" |
| Aug | 2019 | Performed in the music video "Move On" |
| May | 2019 | "Comedia" working on progress at VisualSpace |
| April | 2019 | Performed at VisualSpace "The Place Flower Bloom" |
| April | 2019 | Performed at Cherry Festival VanDusen Garden |
| March | 2019 | Act in "Akashi" for "Envision" at Performance Works |
| Nov | 2018 | "Commedia" work in progress at VisualSpace |
| Oct | 2018 | Act in the TV drama "Murder" |
| July | 2018 | Performed " Stories" at the "Orford Music Festival" near Montreal |
| July | 2018 | YTM performed for Canada Day Parade on Granville Island |
| May | 2018 | Performed " Stories" at Wentworth Villa Victoria BC |
| April | 2018 | Performed " Stories" at Freer Gallery of Art (Smithsonian Museum) Washington D.C |
| Jan | 2018 | Danced at New year's celebration for Japanese Community in Nanaimo |
| Aug | 2017 | Acted in the Feature Film "Fatal Visit" |
| July | 2017 | Danced "Vancouver Ondo" for Canada Day Parade in Downtown Vancouver |
| June | 2017 | as a guest performer for pianist Sara Davis Buechner's concert at Weill Recital Hall (Carnegie Centre New York). "Stories"( Jacques Ibert )using Yayoi's Noh style masks. |
| April | 2017 | Performed "Rhapsody in Blue" at Kit's House |
| April | 2017 | Performed for the Cherry Fes in VanDusen Garden |
| March | 2017 | Produced and performed OKUNI-Mother of Kabuki at Studio 1398 Collaborate with Gershwin's music by Sara Davis Buechner |
| Aug | 2017 | Danced at Kit's house event with Evelyn Roth and others |
| Nov | 2016 | Acted in the short Film "Akashi-あかし" |
| Oct | 2016 | Danced "Mask Dance" at Nanaimo Gallery |
| Oct | 2016 | Danced Japanese dance at Maple Ridge The ACT Arts Centre |
| July | 2016 | Performed at Kit's House with Evelyn Roth and others |
| July | 2016 | Dance "Vancouver Ondo" for Canada Day Parade in Downtown |
| June | 2016 | Danced at a Fundraiser event West Vancouver United Church |
| June | 2016 | Performed at In FringinG Dance Festival in Nanaimo |
| April | 2016 | Performed Hiku-mime for Sakura Festival at VanDusen Garden |
| March | 2016 | Performed Hiku-mime for Cherry Jam at Burrard Station Stage |
| March | 2016 | Voice Over in "Bon Bon Fire" |
| Nov | 2016 | Performed at Vancouver Art Gallery for Between Object and Action/ Family Fuse |
| Nov | 2015 | Danced in the short film "Aiko" |
| Aug | 2015 | Performed for Benefit Concert at at VGH and Ladner |
| July | 2015 | Performed "Poemime" at VisualSpace in Vancouver |
| July | 2015 | Performed "Vancouver Ondo" for Canada day Parade in Downtown |
| June | 2015 | Performed "Asobi-wo-sentoya" at VisualSpace in Vancouver |
| April | 2014 | Participated in The 24 hours Shakespeare project |
| April | 2014 | Performed at the Cherry Blossom Festival Cherry Jam Downtown at Burrard Station |
| Mar – April | 2014 | Movement consultant/Production Dramaturg for the Carousel Theatre "Wondrous Tales of Old Japan" |
| Nov | 2013 | Co-directed and performed "Medea –Rokujo" at Orpheum Annex Theatre Vancouver |
| July | 2013 | Directed and Performed " The Restaurant of Many Orders for YOUR CONTINENT Fes in |
| July | 2013 | Pechakucha Night at Richmond Cultural Centre |
| July | 2013 | Performed "Vancouver Ondo" for Canada day Parade in Downtown |
| June | 2013 | Performed "Rokujo" "Multicultural Heritage Music & Movement" |
| April | 2013 | Performed "Vancouver Ondo" at Sakura days VanDusen Garden |
| March | 2013 | Performed " Wild Woman" at Anime Evolution in Douglas College |
| Aug | 2012 | Performed "Kenji Miyazawa-Music and Movement" for Powell Street Festival |
| June | 2012 | Performed "Rokujo" for "Multicultural Heritage Music & Movement" |
| March | 2012 | Performed "March 11, 2011" with flutist Chieko Konishi for Fundraiser "One Year Later" |
| Feb | 2012 | Performed "March 11, 2011" with flutist Chieko Konishi for Fund Raiser "Changing Tides" |
| Jan | 2012 | Performed "Bolero" with Pianist Sara Davis Buechner at Living with Hiroshima |
| Sep | 2011 | Performed "Izutsu" for We Love Vancouver Festival |
| Aug | 2011 | Worked as a movement coach for "Salmon Row" Mortal Coil Performance Society |
| July | 2011 | Performed "The restaurant of Many Orders" for Powell Street Festival |
| May | 2011 | Produced and Performed "Identity- Ancestral Memory" at Revue Stage on Granville Island |
| April | 2011 | Performed "Requiem" with Sara Davis Buechner for Gala Fund-Raising Concert |
| March | 2011 | Performed "Izutsu" for Vancouver Cherry Blossom Festival |
| Nov | 2010 | Performed "Izustu" for Canada-Japan Society of BC |
| Nov | 2010 | Performed "Butterfly Magic" for Burnaby Gogos |
| Oct | 2010 | Performed "Commercial Songs from Around the World" in Qualicum Beach |
| Sep | 2010 | Performed "Izustu" at Pendulum Gallery Vancouver for "Yukiko Onley exhibition" |
| May | 2010 | Worked as a Movement Coach for "Madama Butterfly", Vancouver Opera |
| April | 2010 | Produced and Performed "Identity-Ancestral Memory" Working on Progress at Centre A |
| April | 2010 | Performed "Butterfly Magic"for the Art Auction National Nikkei Museum & Heritage centre |
| Feb-March | 2010 | Performed at Olympic and Paralympic Event |